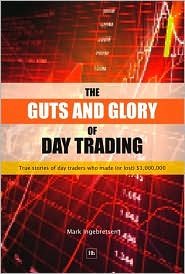 Author: Mark Ingebretsen
Publisher: Harriman House (May 20, 2010)
Format: Paperback – 304 pages
ISBN-10: 1906659710
ISBN-13: 978-1906659714
List Price: $24.99
Very few day traders make money – let alone $1 million or more – in the daily stock-trading battle. "The Guts and Glory of Day Trading" tells the true stories of twelve otherwise ordinary people who have made or lost at least $1 million trading stocks. Their triumphant and tragic tales pull back the curtain from the gritty world of day trading to give a rare glimpse of the human emotion, the lives transformed, and the lessons learned, aside from the hype. Day traders aren't only market gurus and stock brokers, but regular people – classical pianists, burned-out photographer, moonlighting business consultants – who decided to pursue an exciting and treacherous phenomenon to achieve independent success and wealth beyond their wildest dreams. Their stories will inspire you, and – more importantly – show how you can improve your own trading strategies by learning from their successes and avoiding their mistakes. Every battle has its winners and losers. Every day, thousands of day traders take their battle positions in front of their computers to go head to head against the world's best, and most powerful, trading institutions. There are casualties, many casualties. But there are also victories – moments when an individual trader reaches the pinnacle of our capitalist system to take a profit from the market. Making money isn't easy – with a 75 to 90 percent failure rate, only the strong survive, and only the most savvy live to trade another day. But despite the negative press, a wildly unpredictable market, and the possibility of losing their shirts on any given trading day, these market mercenaries continue to trade, and day trading continues to grow as a profession. What drives them? In "The Guts and Glory of Day Trading", you'll read the astounding stories of those traders who have been skilled enough to make significant money, and the gut-wrenching dramas of those who were unfortunate to lose vast fortunes. Whether you're a trader yourself or just a casual investor, their stories and strategies will keep you on the edge of your seat. These valuable lessons from this trading dozen tell more than just the pits and peaks of stock trading. They teach the survival skills and tactics necessary to live to trade another day. You can learn how to improve your own trading or investing techniques by learning what most of them did right – and what some of them did wrong.
Mark Ingebretsen has been writing about finance and investing for over 20 years. He is a featured columnist at TheStreet.com and his articles have also appeared in Esquire, Sports Illustrated, Chicago and numerous other magazines. He and his family live in Iowa.
MadDog's Opinion: Not reviewed yet.
| | |
| --- | --- |
| Merchant | Price |
| | N/A |
| | $22.79 |
| | N/A |
| | $22.78 |
| | $18.25 |